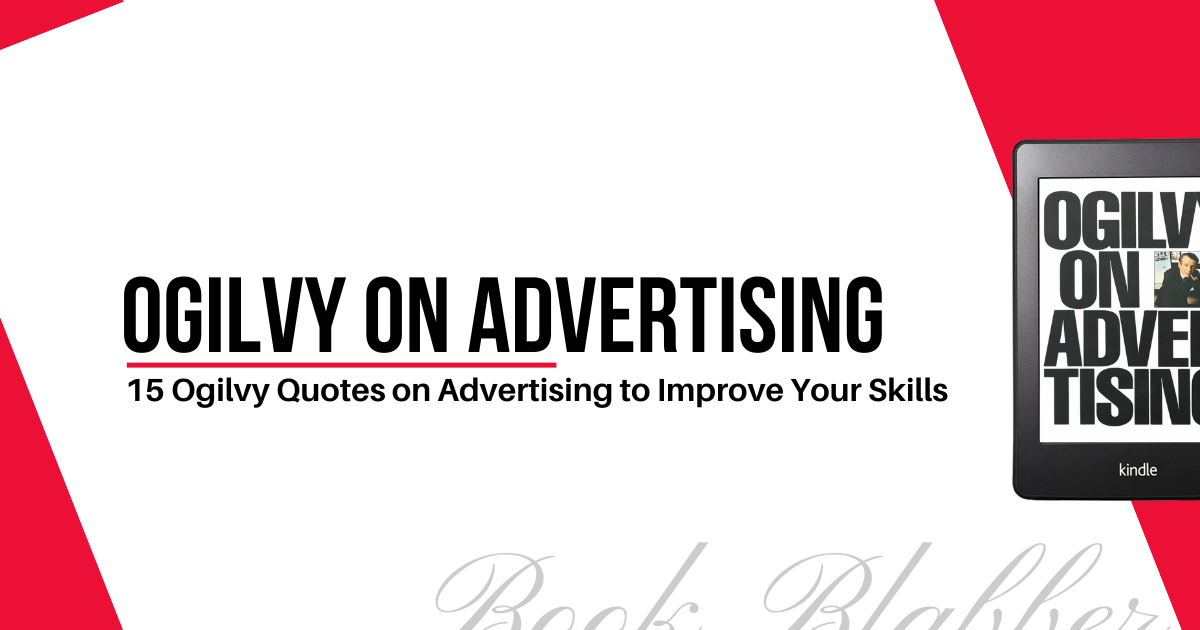 Ogilvy on Advertising book is like an editorial column of a newspaper. It's a candid collection of thoughts of "the most sought-after wizard in the business." The book represents the views of David Ogilvy… on advertising. It talks more about the different aspects of advertising and emotional copywriting than the how-tos.
This Ogilvy book does have many research-backed tips to help an advertiser. And you'll also find many memorable quotes by David Ogilvy.
Check Ogilvy on Advertising on Goodreads
It's a collection of some of his most famous campaigns. It has some of the best Ogilvy ads, and it lays out many other popular ones. It might be a good book for beginners looking for a primer on advertising psychology.
This article lists some of the best David Ogilvy quotes on advertising I could pick up from the book.
Let's check them out.
1) Product's personality
The personality of a product is an amalgam of many things – Its name, its packaging, its price, the style of its advertising, and the nature of the product itself.
2) Dull products
There are no dull products, only dull writers.
3) Advertising isn't an art
I do not regard advertising as entertainment or an art form, but as a media of information.
4) Not all advertising increases sales
Everyone has a vested interest in prolonging the myth that all advertising increases sales to some degree. It doesn't.
5) Consumers pay for value
Consumers buy products whose advertising promises them value for money, beauty nutrition, relief from suffering, social status and so on. All over the world. Always.
6) Creative advertisement
When I write an advertisement, I don't want you to tell me that you find it creative. I want you to find it so interesting that you buy the product.
You might also like: Luke Sullivan's Lessons to Creating Great Ads
7) Stuff your conscious
Big ideas come from the subconscious. So, stuff your conscious mind with information.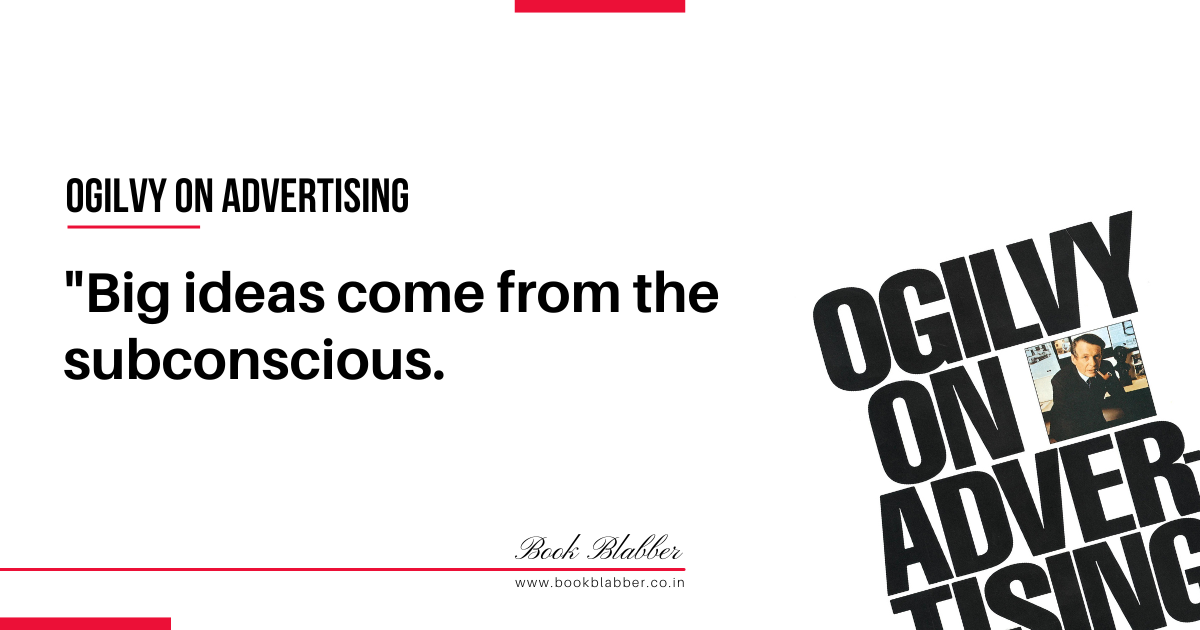 8) Repeat advertisements
If you're lucky enough to write a good advertisement, repeat it until it stops selling.
9) Spectators
You aren't advertising to a standing army; you are advertising to a moving parade.
10) Readers are alone
Do not address your readers as though they were gathered together in a stadium. When people read your copy, they're alone.
11) Run separate campaigns
It sometimes pays to run separate campaigns – one addressed to the management, the other to the specialists.
12) Advertisement law
There is no law which says advertisements have to look like advertisements.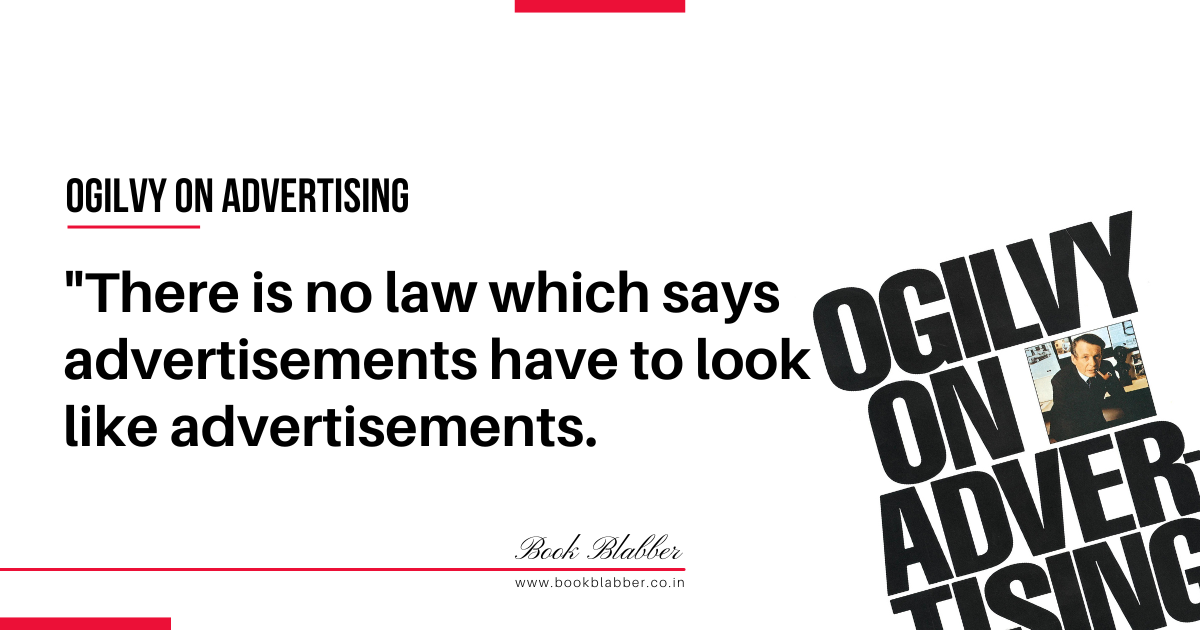 Also check these 35 Piyush Pandey quotes and lessons on advertising
13) Promise benefit
The headlines which work best are those, which promise the reader a benefit.
14) Promise is important
Make sure that your promise is important to your customers. Make your promise specific.
15) Production cost
Regard advertising as part of the product, to be treated as a production cost, not a selling cost.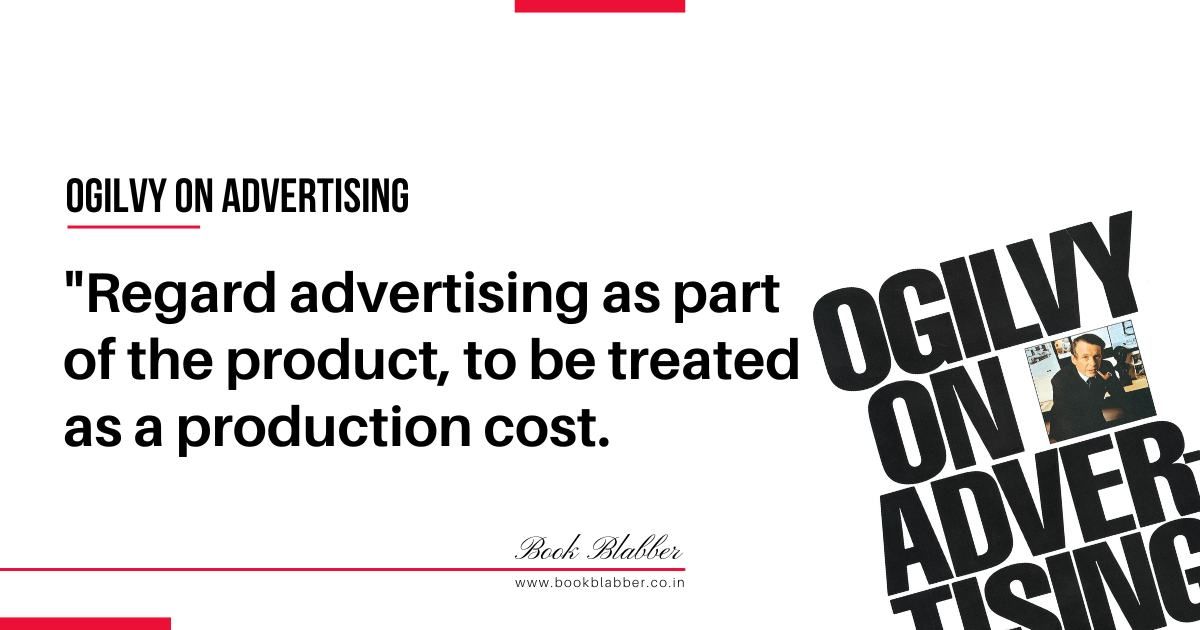 ---
Those were all the top David Ogilvy quotes about advertising from the Ogilvy advertising book.
Liked the collection?
Join Book Blabbers WhatsApp group to bond over books, memes and quotes.
Subscribe to Book Blabber's Bulletin to get book summaries, reading tips and occasional hugs in your inbox.