tshirt designs
Create T-Shirt Designs and Make Money Online: Take Your Book-Love to Cash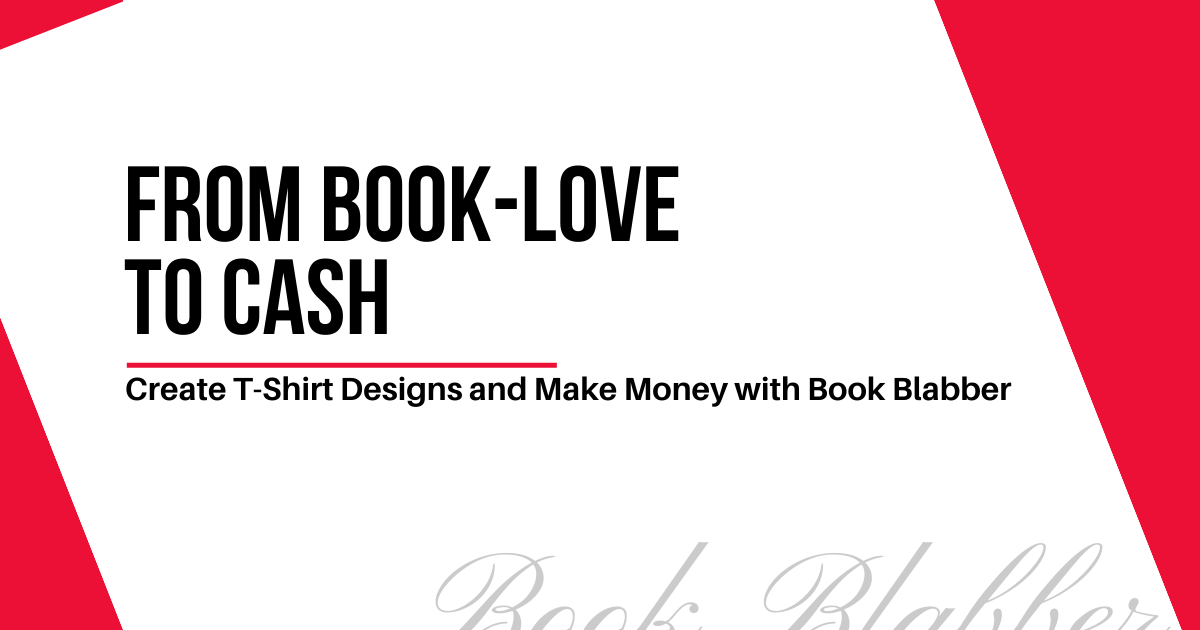 Heyyo bookworms! Do you like to wear your favourite book and movie phrases for a t-shirt? Not only wear them but also sell them? You can submit t-shirt designs for money. Now is the time to turn your dream of making money online by designing t-shirts true.
Apna time aa gaya!
In India, book lovers need a suitable platform for bookish merchandise. The market for book-themed apparel is looking for a lot more than what currently exists. And at affordable rates.
So, welcome to the world where book love meets entrepreneurship. It's a world where your creativity flourishes. You can earn money by designing t-shirts online. It's one of the best ways to make money as a creative book-lover.
Let's explore how to create t-shirt design online and earn money in India.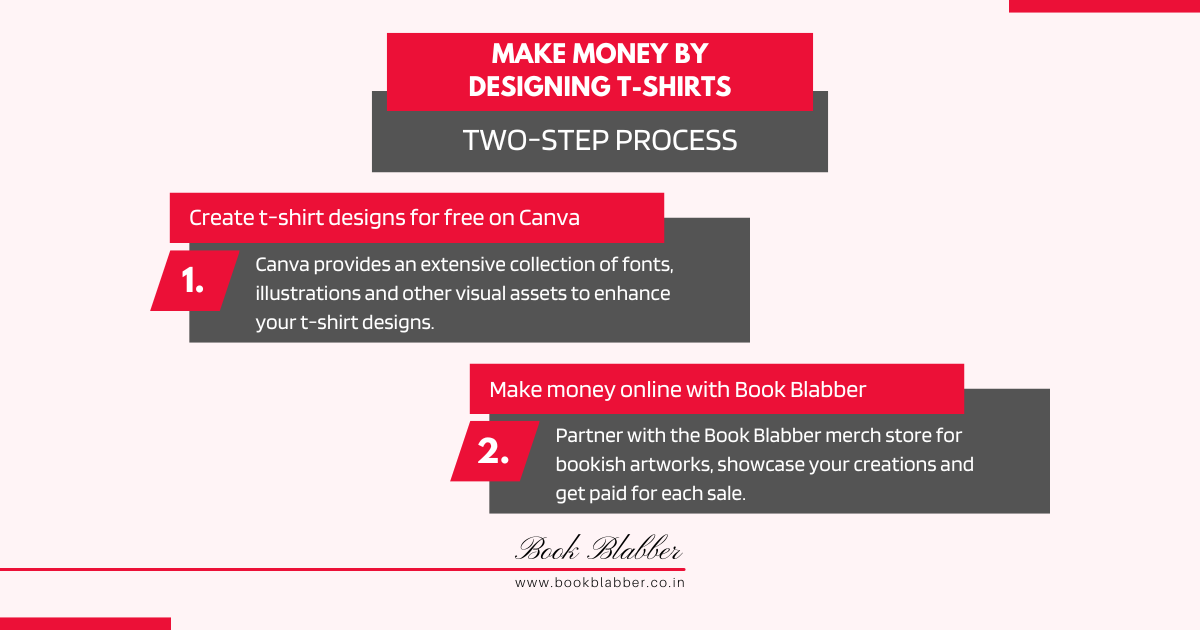 Create t-shirt designs for free on Canva
You don't even have to be a pro-Photoshop artist to make money being creative. If you can create good designs with Canva, you're all set to earn money. And I mean it!
Canva offers a range of tools and templates to help you put up book-themed designs for sale.
Typography: Canva provides an extensive collection of fonts to choose from. They allow you to create visually captivating text elements. You'll find a variety of styles that can perfectly complement your designs, book-themed or otherwise.
Illustrations and icons: Another standout feature of Canva is its vast library of graphics and icons. From illustrations of open books, quills and bookmarks to symbols like typewriters and glasses, you'll find a plethora of visual assets to enhance your t-shirt designs. And you can customise your designs easily.
Pre-designed templates: Canva has a collection of pre-designed templates tailored for t-shirt designs. These templates offer a great starting point to help you make extra money from your design skills. It also has plenty of design elements like borders and frames, and gradients and textures to personalize and fit your concept.
You can also use ChatGPT to generate AI prompts and create detailed AI art. Upload them to Canva and design t-shirts.
Make money online with Book Blabber
The next step is to print your designs on t-shirts and sell them. But setting up and managing an online store can be daunting.
There's an easy way out to create book-themed t-shirt designs online and earn money. You can skip all the overhead admin tasks that come with an online store.
You can earn money from your designs by partnering with the Book Blabber merch store. It's an online bookish merchandise store that sells quirky artworks online. 
Drop an email to bookblabber.store@gmail.com to get started.
You get to showcase your creations and get paid for each sale. Book Blabber takes care of the entire process from order dispatch and tracking and handling customer support. You have absolutely no headache of managing the website and store.
All you do is focus on pouring your heart out into your designs. Make money by designing t-shirts. Turn your art into a source of income.
And the best thing? You don't have to pay a thing to get paid. You can create t-shirt design online for free, submit to Book Blabber and get paid for sales. Currently, exclusive to Indian bookish artists.
Want to start your own online store instead?
Select a catchy name from these Clothing Store Name Ideas and get started. Bizlite allows you to get up and running within minutes with a digital business card and store.
Start your t-shirt store with Bizlite
FAQs about making money selling designs
Can you make money from designing t-shirts?
Yes, you can make money from designing t-shirts. Designing is one of the hot creative skills that make money. You can start your own online apparel store or strike up a collab with merch stores like Book Blabber. With Book Blabber, it's a stress-free affair to make t-shirt design online and earn money.
Can I sell Canva designs on t-shirts?
Yes, as per Canva's license for commercial purposes, you can sell your t-shirt design and earn money. It applies to both Free and Pro content licenses.
How to earn money by designing t-shirts in India?
The easy and hassle-free way to sell designs online in India is to submit your designs to merch stores. At Book Blabber merch store, bookworms can flaunt their book love for cash. It's a good option for a creative person to make money selling t-shirt designs online.
Wrapping it up
By using Canva's tools and your design skills, you can make money online as a creative t-shirt designer. You can make t-shirt design and earn money (without "investing" any money upfront). So, embrace your creativity, experiment with various elements, and let your passion shine. It's time to scream your love for art aloud.
Drop an email to bookblabber.store@gmail.com to get started.
Some helpful t-shirt design resources
Other things to do now…
Join Book Blabbers WhatsApp group to bond over books, memes and quotes.
Subscribe to Book Blabber's Bulletin to get book summaries, reading tips and occasional hugs in your inbox.