business books
14 Best Books for Young Entrepreneurs to Take on the World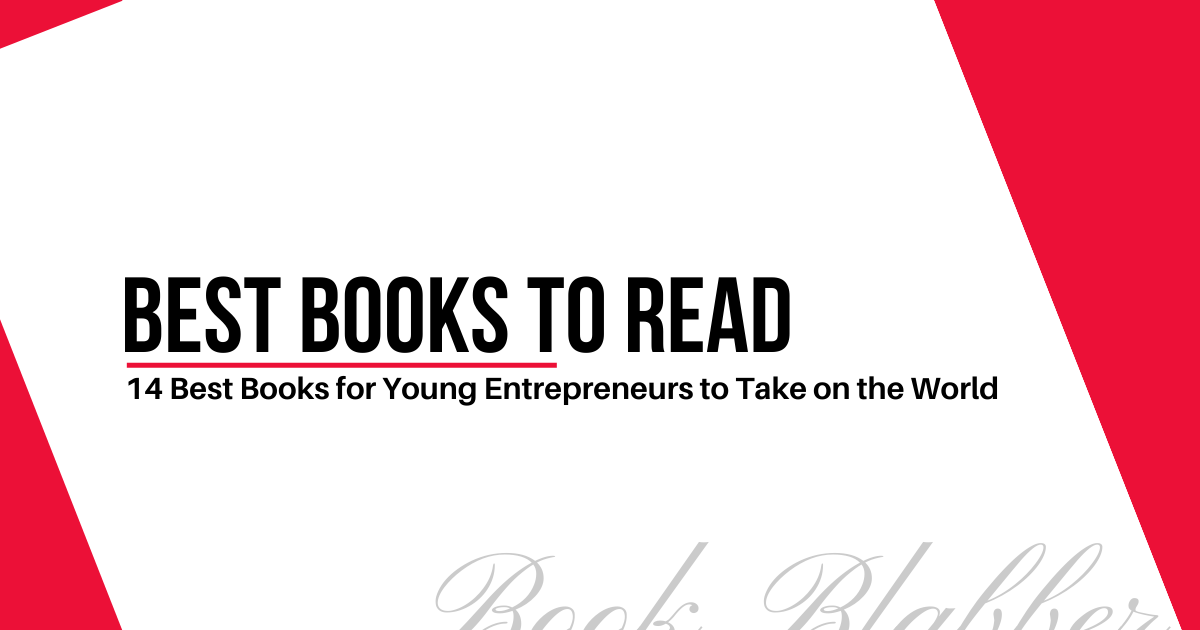 Starting a business can be an exciting opportunity to pursue your passions and have a positive impact on the world. Without resources, not so much. The best books for young entrepreneurs can provide practical advice, inspiration and insights from successful business leaders.
Here, I've compiled a list of the best books for young entrepreneurs to help navigate the challenges of starting and growing a business. These are some of the best inspirational books for young entrepreneurs that offer a wealth of knowledge.
Sam Walton: Made in America, by Sam Walton
Sam Walton book is a story about entrepreneurship, and risk, and hard work. It's the story of Sam and how he built Walmart. The book shares about his business struggle, and his relationship with his family, partners and associates (employees). It's one of the best young entrepreneur books for those who want to start a new business, with content put forward in a candid style. Sam shared various rules and anecdotes that inspired the establishment of the largest retailer in the world.
Top 5 Lessons from the book:
I had to pick myself up and get on with it, do it all over again, only even better this time.
Great ideas come from everywhere if you just listen and look for them. You never know who's going to have a great idea.
What we guard against around here is people saying, 'Let's think about it.' We make a decision. Then we act on it.
Every time Wal-Mart spends one dollar foolishly, it comes right out of our customers' pockets. Every time we save them a dollar, that puts us one more step ahead of the competition – which is where we always plan to be.
I don't think any other retail company in the world could do what I'm going to propose to you. It's simple. I want you to take a pledge with me. I want you to promise that whenever you come within ten feet of a customer, you will look him in the eye, greet him, and ask him if you can help him.
The Lean Startup, by Eric Ries
The Lean Startup is a must-read for any young entrepreneur looking to build a startup. Eric emphasizes on the importance of testing ideas quickly and efficiently, rather than wasting time creating elaborate business plans. This young entrepreneur book suggests finding a way to continuously adapt and adjust before it's too late. It provides a scientific approach to avoiding wastage of time and resources, and creating and managing successful startups.
Top 5 Lessons from the book:
The only way to win is to learn faster than anyone else.
We must learn what customers really want, not what they say they want or what we think they should want.
Reading is good, action is better.
If you cannot fail, you cannot learn.
As you consider building your own minimum viable product, let this simple rule suffice: remove any feature, process, or effort that does not contribute directly to the learning you seek.
Also Read: 31 Best Books for Business Owners and Startup Founders
Zero to One, by Peter Thiel
Zero to One is one of the best books for young businessmen. It's an organised compilation of notes about different startups, business theories and other relevant events. It's about the working behind the success and failure of businesses. In the book, Peter shares his insights on how to build a successful startup from scratch. It focuses on creating a new market rather than competing in an existing one.
Top 5 Lessons from the book:
Every moment in business happens only once. The next Bill Gates will not build an operating system. The next Larry Page or Sergey Brin won't make a search engine. And the next Mark Zuckerberg won't create a social network. If you are copying these guys, you aren't learning from them.
The best entrepreneurs know this: every great business is built around a secret that's hidden from the outside.
What important truth do very few people agree with you on?
Elite students climb confidently until they reach a level of competition sufficiently intense to beat their dreams out of them.
The most valuable businesses of coming decades will be built by entrepreneurs who seek to empower people rather than try to make them obsolete.
Also Read: 14 Best Books on Overcoming Self-Doubt and Building Confidence
The $100 Startup, by Chris Guillebeau
The $100 Startup is another good book for young entrepreneurs. The book outlines the way to earn a good living while crafting a life of independence and purpose. It's like a 300-page documentary about the struggles of over 50 micro-business owners. And it's among the best books for small business owners who want to set up their own micro-business, on a shoestring budget.
Top 5 Lessons from the book:
Don't waste your time living someone else's life.
Value is created when a person makes something useful and shares it with the world.
Plans are only good intentions unless they immediately degenerate into hard work.
Think more about what people really want than about what you think they need.
To succeed in a business project, especially one you're excited about, it helps to think carefully about all the skills you have that could be helpful to others and particularly about the combination of those skills.
Also Read: 9 Best Books for Finance
Zero to Sold, by Arvid Kahl
Zero to Sold is another among the good books for young entrepreneurs. It's an actionable guide especially for bootstrapped tech startups. It lays out the entire process that goes into setting up a bootstrapped online business to selling it. The book tells the story of a software business that was run by Arvid. And it shows how important is to focus on your niche audience, find their critical problem, and nail the solution.
Elon Musk, by Ashlee Vance
Elon Musk book is an exciting and intelligent account of Elon Musk, the real-life Iron Man. In the book, Ashlee gives a picture of both the dreams and the man. It's the story of his struggles, his work, his failures, his determination and everything else about his life. The book gives you an insight into Elon's early life as well as the various businesses he has been part of. And it might just be the best book for young entrepreneurs to read.
Top 5 Lessons from the book:
Good ideas are always crazy until they're not.
The best minds of my generation are thinking about how to make people click ads,
If the rules are such that you can't make progress, then you have to fight the rules.
There needs to be a reason for a grade. I'd rather play video games, write software, and read books than try and get an A if there's no point in getting an A.
One thing that Musk holds in the highest regard is resolve, and he respects people who continue on after being told no.
Also Read: 7 Best Books for Growth Mindset
Crush It!, by Gary Vaynerchuk
Crush It is about using the power of the Internet to turn your interests into a business and grow it. And it's a great resource for young entrepreneurs to unveil the power of online marketing for themselves. In this young entrepreneur book, Gary shares his insights on building a personal brand and leveraging social media to grow a business.
Top 5 Lessons from the book:
Love your family, work super hard, live your passion.
Live your passion. What does that mean, anyway? It means that when you get up for work every morning, every single morning, you are pumped because you get to talk about or work with or do the thing that interests you the most in the world.
Even if your ambitions are huge, start slow, start small, build gradually, build smart.
There no longer has to be a difference between who you are and what you do.
Developing your personal brand is the same thing as living and breathing your resume.
Also Read: 8 Best Books for Introverts to Go from Quiet to Confident
The E-Myth Revisited, by Michael E. Gerber
The E-Myth Revisited book focuses on the importance of systems for a successful business. It shows how to work on your business, not in it. And it shows you the way to get your business to run without you. The book takes the lessons of franchising to implement it to any business. And it explains how to create processes and procedures that can be replicated and scaled. It's definitely one of the best books for young entrepreneurs to take some inspiration from.
Top 5 Lessons from the book:
The difference between great people and everyone else is that great people create their lives actively, while everyone else is created by their lives, passively waiting to see where life takes them next.
The people who are exceptionally good in business aren't so because of what they know but because of their insatiable need to know more.
If your business depends on you, you don't own a business – you have a job. And it's the worst job in the world because you're working for a lunatic!"
The work we do is a reflection of who we are.
The difference between a warrior and an ordinary man is that a warrior sees everything as a challenge, while an ordinary man sees everything as either a blessing or a curse.
Also Read: 5 Best Books for Time Management
Start with Why, by Simon Sinek
Start with Why focuses on the importance of defining your "why" – the purpose and values that drive your business. It's considered one of the best business books in the world. In it, Simon explains how businesses with a clear sense of purpose are more likely to succeed and attract loyal customers. It draws on a wide range of real-life stories, to tell what it takes to lead and inspire and how you can, too.
Top 5 Lessons from the book:
People don't buy what you do; they buy why you do it. And what you do simply proves what you believe.
There are only two ways to influence human behavior: you can manipulate it or you can inspire it.
Great companies don't hire skilled people and motivate them. They hire already motivated people and inspire them.
You don't hire for skills; you hire for attitude. You can always teach skills.
The role of a leader is not to come up with all the great ideas. The role of a leader is to create an environment in which great ideas can happen.
The Power of Broke, by Daymond John
The Power of Broke explores why starting a business on a limited budget can be your greatest competitive advantage. Daymond draws on his own experiences as an entrepreneur and a "shark" of the TV show Shark Tank to offer practical advice for young entrepreneurs. He shares his own story as well as other young entrepreneur's stories who have started a business with limited resources.
Top 3 Lessons from the book:
The easiest thing to sell is truth.
Be in the efforts business, not the results business.
Told myself it didn't matter if my ride didn't turn heads – it only mattered that it turned things around for me.
Also Read: 7 Best Books for Mental Health to Understand and Overcome the Challenges
Delivering Happiness, by Tony Hsieh
Delivering Happiness is the story of Zappos, and its CEO Tony Hsieh. Tony shares the lessons he learned in business and life, and the insights on building a successful company culture. The books puts light on a different kind of corporate culture that concentrates on the happiness of those around you. It shows how keeping everyone happy can dramatically increase your own happiness as well as result in an exceptional customer service.
Top 5 Lessons from the book:
Happiness is really just about four things: perceived control, perceived progress, connectedness, and vision/meaning.
Money alone isn't enough to bring happiness… happiness [is] when you're actually truly ok with losing everything you have.
Things are never as bad or as good as they seem.
Envision, create, and believe in your own universe, and the universe will form around you.
I had decided to stop chasing the money, and start chasing the passion.
Also Read: 9 Best Books for Project Managers
Good to Great, by Jim Collins
Good to Great is a study of companies that have made the transition from good to great over a period of years. In this book, Jim uncovers the underlying factors that enable companies to make the leap from good to great. It shows how an organisation can become great by following the principles. Backed by evidences, the book is full of vital tips for budding entrepreneurs.
Top 5 Lessons from the book:
Good is the enemy of great. And that is one of the key reasons why we have so little that becomes great.
When what you are deeply passionate about, what you can be best in the world at, and what drives your economic engine come together, not only does your work move toward greatness, but so does your life.
The purpose of bureaucracy is to compensate for incompetence and lack of discipline.
Greatness is not a function of circumstance. Greatness is largely a matter of conscious choice and discipline.
Great vision without great people is irrelevant.
The Snowball, by Alice Schroeder
The Snowball is possibly one of the best books for budding entrepreneurs. It's the biography of the legendary investor Warren Buffett. The book explores not only his investment style, but also his personality, family life and his larger philosophy. It's one of the best entrepreneurship books that tells you about the fascinating success story of Warren Buffett. And it's a wonderful guide to understand and model his success.
Top 5 Lessons from the book:
On me personally what has been the most important was to understand the value of time -- and this is something that has come from observing him, learning his story and that time compounds.
Time is the friend of the wonderful business, the enemy of the mediocre.
Everybody wants attention and admiration. Nobody wants to be criticized.
The big question about how people behave is whether they've got an Inner Scorecard or an Outer Scorecard.
Intensity is the price of excellence.
The Art of Possibility, by Rosamund Stone Zander
The Art of Possibility offers a unique perspective on creativity and innovation. It explores the idea that by changing the way of thinking about self, one can unlock new possibilities. Through uplifting stories and personal anecdotes, the book dives into the power of that idea. It's for entrepreneurs to help them achieve their full potential. It can help them become passionate communicators and leaders who radiate possibility into the world.
Top 5 Lessons from the book:
In the measurement world, you set a goal and strive for it. In the universe of possibility, you set the context and let life unfold.
We can replace the narratives that hold us back by inventing wiser stories, free from childish fears, and, in doing so, disperse long-held psychological stumbling blocks.
Life is revealed as a place to contribute and we as contributors. Not because we have done a measurable amount of good, but because that is the story we tell.
Every problem, every dilemma, every dead end we find ourselves facing in life, only appears unsolvable inside a particular frame or point of view. Enlarge the box, or create another frame around the data, and problems vanish, while new opportunities appear.
I am here today to cross the swamp, not to fight all the alligators.
Also Read: 6 Best Books for Leadership
OK, those were all the top books to read for young entrepreneurs. These are among the best entrepreneur books for budding businessmen to get some insights into the business world.
---
Liked the article?
Join Book Blabbers WhatsApp group to bond over books, memes and quotes.
Subscribe to Book Blabber's Bulletin to get book summaries, reading tips and occasional hugs in your inbox.