reading tips
14 Best Books to Improve Reading and Develop Reading Habit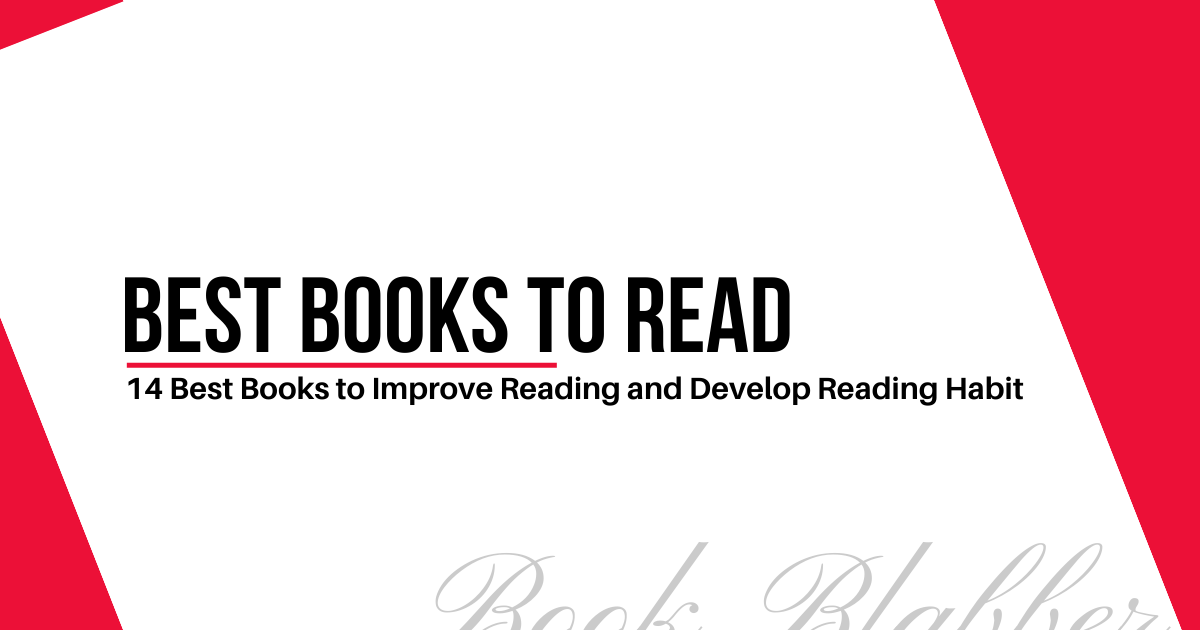 When you're a beginner reader, the best books to develop reading habit can be a game-changer. This article has some of the most useful books to improve reading skills and stamina.
In this article, I've compiled a list of the most effective books to help you improve your reading and develop a lifelong reading habit. These are some of the best books to start reading habit for adults, containing books from classic literature to contemporary bestsellers.
The Bookshop on the Corner, by Jenny Colgan
This heart-warming novel is about a Scottish librarian who loses her job and decides to start a mobile bookshop in a small town. Along the way, she meets new friends and learns about the importance of community and the power of books to bring people together. It's one of the best books to start a reading habit.
Top 5 Quotes from the book:
Just do something. You might make a mistake, then you can fix it. But if you do nothing, you can't fix anything. And your life might turn out full of regrets.
Because every day with a book is slightly better than one without, and I wish you nothing but the happiest of days.
There was a universe inside every human being every bit as big as the universe outside them. Books were the best way Nina knew – apart from, sometimes, music – to breach the barrier, to connect the internal universe with the external.
I am of the old-fashioned conviction that reading is a pleasure to be carefully guarded at all times.
Some people buried their fears in food, she knew, and some in booze, and some in planning elaborate engagements and weddings and other life events that took up every spare moment of their time, in case unpleasant thoughts intruded.
Also Read: 11 Best Books for Beginning Readers You Should Try Today
A Man Called Ove, by Fredrik Backman
This touching story is about a grumpy old man named Ove who has given up on life. However, his world is turned upside down when a young family moves in next door and starts to bring light back into his life. The book is a funny and heart-warming exploration of love, friendship, and the power of second chances. And the book definitely goes in the list of best books to start reading habit.
Top 5 Quotes from the book:
People said Ove saw the world in black and white. But she was color. All the color he had.
"To love someone is like moving into a house," Sonja used to say.
Death is a strange thing. People live their whole lives as if it does not exist, and yet it's often one of the great motivations for living.
We always think there's enough time to do things with other people. Time to say things to them. And then something happens and then we stand there holding on to words like 'if'.
She just smiled, said that she loved books more than anything, and started telling him excitedly what each of the ones in her lap was about. And Ove realised that he wanted to hear her talking about the things she loved for the rest of his life.
The Kite Runner, by Khaled Hosseini
This powerful and moving novel is set in Afghanistan and follows the story of two young boys, Amir and Hassan, and their friendship. As they grow older, they become separated by class and culture, and their lives take different paths. The book is a haunting exploration of loyalty, friendship, and the true meaning of family. And it's one of the top books out there to get you into reading and develop a reading habit.
Top 5 Quotes from the book:
For you, a thousand times over.
It may be unfair, but what happens in a few days, sometimes even a single day, can change the course of a whole lifetime.
And that's the thing about people who mean everything they say. They think everyone else does too.
There is only one sin. and that is theft... when you tell a lie, you steal someone's right to the truth.
It always hurts more to have and lose than to not have in the first place.
People We Meet on Vacation, by Emily Henry
This fun and romantic novel is about two best friends, Poppy and Alex, who embark on a two-week road trip together. The book is a light-hearted and entertaining exploration of friendship, love, and the power of second chances.
Top 5 Quotes from the book:
I still have a lot to figure out, but the one thing I know is, wherever you are, that's where I belong. I'll never belong anywhere like I belong with you.
I don't think I knew I was lonely until I met you.
It hurts to want it all, so many things that can't coexist within the same life.
But most of us are too scared to even ask what we want, in case we can't have it.
I love him so much. I love him more than I did yesterday, and I already know tomorrow I'll love him even more, because every piece of him he gives me is another to fall in love with.
The Rosie Project, by Graeme Simsion
This quirky and charming is another book you can choose to improve your book reading habit. The novel is about a socially awkward professor named Don Tillman who sets out to find the perfect wife using a scientifically designed questionnaire. The book is a funny and heart-warming exploration of love, friendship, and the power of taking chances.
Top 5 Quotes from the book:
But why, why, why can't people just say what they mean?
I asked you here tonight because when you realise you want to spend the rest of your life with somebody, you want the rest of your life to start as soon as possible.
Humans often fail to see what is close to them and obvious to others.
I haven't changed my mind. That's the point! I want to spend my life with you even though it's totally irrational. And you have short earlobes. Socially and genetically there's no reason for me to be attracted to you. The only logical conclusion is that I must be in love with you.
"If you really love someone," Claudia continued, "you have to be prepared to accept them as they are. Maybe you hope that one day they get a wake-up call and make the changes for their own reasons."
Eleanor & Park, by Rainbow Rowell
This young adult novel is about two misfits, Eleanor and Park, who find love and acceptance in each other despite their differences. The book is a touching exploration of first love, family, and the power of perseverance.
Top 5 Quotes from the book:
Eleanor was right. She never looked nice. She looked like art, and art wasn't supposed to look nice; it was supposed to make you feel something.
Holding Eleanor's hand was like holding a butterfly. Or a heartbeat. Like holding something complete, and completely alive.
I want everyone to meet you. You're my favorite person of all time.
What are the chances you'd ever meet someone like that? he wondered. Someone you could love forever, someone who would forever love you back? And what did you do when that person was born half a world away? The math seemed impossible.
I just want to break that song into pieces and love them all to death.
Also Read: 8 Best Books for Introverts to Go from Quiet to Confident
The Seven Husbands of Evelyn Hugo, by Taylor Jenkins-Reid
This novel is about an aging Hollywood star, Evelyn Hugo, who recounts her life and the seven men she married to a young journalist. The book is a captivating exploration of Hollywood, love, and the complexities of the human heart.
Top 5 Quotes from the book:
People think that intimacy is about sex. But intimacy is about truth. When you realize you can tell someone your truth, when you can show yourself to them, when you stand in front of them bare and their response is 'you're safe with me'- that's intimacy.
Never let anyone make you feel ordinary.
Don't ignore half of me so you can fit me into a box. Don't do that.
You do not know how fast you have been running, how hard you have been working, how truly exhausted you are, until somewhat stands behind you and says, "It's OK, you can fall down now. I'll catch you.
I'm under absolutely no obligation to make sense to you.
The Art of Racing in the Rain, by Garth Stein
This novel is narrated by a wise and philosophical dog named Enzo sharing his observations on life, love, and the human condition. The book is a touching and insightful exploration of the bond between humans and their pets, and the lessons we can learn from them.
Top 5 Quotes from the book:
There is no dishonor in losing the race. There is only dishonor in not racing because you are afraid to lose.
He died that day because his body had served its purpose. His soul had done what it came to do, learned what it came to learn, and then was free to leave.
That which we manifest is before us; we are the creators of our own destiny. Be it through intention or ignorance, our successes and our failures have been brought on by none other than ourselves.
To live every day as if it had been stolen from death, that is how I would like to live. To feel the joy of life, as Eve felt the joy of life. To separate oneself from the burden, the angst, the anguish that we all encounter every day. To say I am alive, I am wonderful, I am. I am. That is something to aspire to.
The true hero is flawed. The true test of a champion is not whether he can triumph, but whether he can overcome obstacles in order to triumph.
Also Read: 7 Best Books for Anxiety to Find Calm and Confidence
Lily and the Octopus, by Steven Rowley
This touching and imaginative novel is about a man and his aging dog, Lily, and the magical adventures they embark on together. The book is a heart-warming exploration of love, loss, and the power of imagination.
Top 5 Quotes from the book:
It's natural, as our loved ones age, to start grieving their loss. Even before we lose them.
To focus, I think of how dogs are witnesses. How they are present for our most private moments, how they are there when we think of ourselves as alone. They witness our quarrels, our tears, our struggles, our fears, and all of our secret behaviors that we have to hide from our fellow humans. They witness without judgment.
A heart is judged not by how much you love, but by how much you are loved by others.
Someone once said give a dog food and shelter and treats and they think you are a god, but give a cat the same and they think they are the god.
Because dogs live in the present. Because dogs don't hold grudges. Because dogs let go of all of their anger daily, hourly, and never let it fester. They absolve and forgive with each passing minute.
Ready Player One, by Ernest Cline
This thrilling novel is another of the good books for developing reading habit for sci-fi lovers. It's set in a dystopian future where the majority of people escape to a virtual world called the OASIS to escape the harsh realities of their lives. The book is a fast-paced and exciting exploration of technology, adventure, and the power of the human spirit.
Top 5 Quotes from the book:
People who live in glass houses should shut the fuck up.
Going outside is highly overrated.
You'd be amazed how much research you can get done when you have no life whatsoever.
I created the OASIS because I never felt at home in the real world. I didn't know how to connect with the people there. I was afraid, for all of my life, right up until I knew it was ending. That was when I realized, as terrifying and painful as reality can be, it's also the only place where you can find true happiness. Because reality is real.
Whenever I saw the sun, I reminded myself that I was looking at a star. One of over a hundred billion in our galaxy. A galaxy that was just one of billions of other galaxies in the observable universe. This helped me keep things in perspective.
The Hunger Games, by Suzanne Collins
This young adult novel is another future world story. It's set in a dystopian future where children are forced to compete in a deadly game called the Hunger Games. The book is a thrilling and thought-provoking exploration of power, survival and the human spirit. And it's another among the popular books to get back into reading.
Top 5 Quotes from the book:
You don't forget the face of the person who was your last hope.
Remember, we're madly in love, so it's all right to kiss me anytime you feel like it.
I am not pretty. I am not beautiful. I am as radiant as the sun.
Happy Hunger Games! And may the odds be ever in your favor.
Destroying things is much easier than making them.
Also Read: 14 Best Books for Young Entrepreneurs to Take on the World
The Catcher in the Rye, by J.D. Salinger
It's a coming-of-age novel that explores the themes of adolescence, identity, and alienation. The protagonist, Holden Caulfield, is a disillusioned and restless young man who wanders the streets of New York City after being expelled from school. Through Holden's thoughts and experiences, the reader is given a glimpse into the struggles of growing up and the search for meaning and purpose in life.
Top 5 Quotes from the book:
Among other things, you'll find that you're not the first person who was ever confused and frightened and even sickened by human behavior. You're by no means alone on that score, you'll be excited and stimulated to know.
I'm quite illiterate, but I read a lot.
I keep picturing all these little kids playing some game in this big field of rye and all. Thousands of little kids, and nobody's around – nobody big, I mean – except me. And I'm standing on the edge of some crazy cliff. What I have to do, I have to catch everybody if they start to go over the cliff – I mean if they're running and they don't look where they're going I have to come out from somewhere and catch them. That's all I do all day. I'd just be the catcher in the rye.
I am always saying "Glad to've met you" to somebody I'm not at all glad I met. If you want to stay alive, you have to say that stuff, though.
I like it when somebody gets excited about something. It's nice.
The House on Mango Street, by Sandra Cisneros
This book is a collection of vignettes that paint a vivid portrait of growing up in a poor Latino neighbourhood in Chicago. The book follows the life of Esperanza, a young girl who dreams of escaping the hardships of her community and creating a better life for herself. Through her eyes, the reader is introduced to the complexities of poverty, family, and identity.
The Book Thief, by Markus Zusak
This a historical fiction novel set in Nazi Germany. The book follows the life of Liesel, a young girl who is taken in by a foster family during the height of World War II. Through Liesel's experiences, the reader is given a unique perspective on the horrors of the war and the power of human kindness and compassion in the face of adversity. The book also explores themes of love, death, and the power of words to heal and inspire. And it might just be the best book to start reading.
Top 5 Quotes from the book:
The only thing worse than a boy who hates you: a boy that loves you.
I have hated words and I have loved them, and I hope I have made them right.
Like most misery, it started with apparent happiness.
It kills me sometimes, how people die.
I am haunted by humans.
OK, those were all the best books to read to get back into reading. These are some of the top books to read to develop a reading habit and built and fuel people's enthusiasm to pursue their reading book habit.
---
Liked the article?
Join Book Blabbers WhatsApp group to bond over books, memes and quotes.
Subscribe to Book Blabber's Bulletin to get book summaries, reading tips and occasional hugs in your inbox.